Link to Munster Table Tennis website
Confirmation of two competitive events in November as follows:
Saturday 12 November, 2-4 pm: our Wednesday night players host Waterford SO in an inaugural inter club friendly competition at the Club premises – singles only with individual medals and team trophy (and bragging rights!) up for grabs. Afterwards we will have some food and chat in the Montenotte Hotel to wrap up the day.
Saturday 19 November, 12 pm: South Coast Table Tennis host the second in the series of ranking events in St Multose Hall, Kinsale, Co Cork. Our senior, veteran and Wednesday night players will all be taking part. Application form available from the Munster Table Tennis website – click on link above.
January 2017
Confirmation of the Munster Junior Open Competition on 14 January 2017 in the Saile Community Centre, Kinsale, Co Cork has been received. There will be an ID category available in the afternoon and our Wednesday night players will be there! Entries to be given to Philip Shaw by 30 December. There is no further update at present with regard to when the senior and veteran categories of the Munster Open will be held.
February 2017
Two events for Wednesday night players:
18 February: we travel to take on Clonakilty SO.
25 February: Lucan SO in Dublin travel to us to take us on!
4 March 2017
Our Wednesday night players travel to Waterford for the second leg of our Inter Club event.
11 March 2017
Munster TTI ranking event in Colaiste Choilm, Ballincollig.
25 March – o2 April 2017
Cork SportsAbility Week
http://link to Cork Sports Partnership website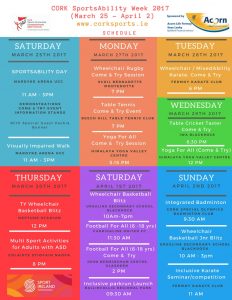 25 March
Beech Hill demonstration of table tennis at the Cork SportsAbility Day at the Mardyke Arena.
27 March 2017
Club Open Night 7.00 pm to 9.00 pm  – all ages welcome.
01 April 2017
The SO Regional Qualifying Competition for table tennis is scheduled for Little Island Sports Complex on  Saturday 01 April.
Also same day, Munster TTI ranking event in UCC.
Also same day, National Masters Event in Dublin
01 July 2017
Club Summer Party at the Urban Jungle, Mardyke Entertainment Centre, Sheares St. €15 a head – money to Margie. All members are welcome!
25 July 2017
The list of domestic and international tournaments for the 2017/2018 season has been published by Table Tennis Ireland –  see below. We hope to have the list of events in Munster published by late August. We will also issue a date then for late October/early November for the SO club event which we are hosting at Beech Hill.
Scan TTI Domestic & International Tournaments 2017-2018
06 September 2017
Provisional list of events in Munster for the 2017-2018 season is as follows:
Oct 7/8 – Classification Event to be run by Beech Hill TTC
Oct 28/29 – Ranking Event to be run by Leeside TTC
Nov 11 – Special Olympics Open Event to be run by Beech Hill TTC
Dec 9 – Ranking Event – venue to be confirmed
Jan 13/14 – Munster Open Championship
Jan 27/28 – Ranking Event to be run by Ballincollig TTC
Mar 10/11 – Ranking Event – venue to be confirmed
01 October 2017
Challenger Event at South Coast TT in Kinsale
11 November 2017
Special Olympics Inter Club Competition at Beech Hill from 1pm to 5 pm. Clubs participating are CoAction Bantry, CoAction Skibbereen, Cope Clonakility, Waterford SO and ourselves. Over 30 competitors involved – should be fun!