25/5/16:Special Olympics (SO) Munster have confirmed that our application for community club status has been successful. This means that the Club can now compete as a stand alone club in the next 4 year cycle of table tennis competitions leading to the next international games in 2019. Our Wednesday night players are looking forward to the Munster regional competition in 2017 and preparations begin when we return after the Summer break.
01/06/16: The weekly Wednesday night session is finished for the Summer and resumes on 7 September next.  In the meantime our SO members can continue to attend over the Summer at the Sunday morning sessions from now until then.
24/8/16:The family of the late Stephen Kelleher, a Club member for many years, raised some €1,000 for the Cope Foundation Physical Activity and Sports Department and presented same to Terence McSweeney last August. The Club has been allocated a grant from this money to establish a memorial trophy in Stephen's name for Club activity. More details to follow. Our photo below members of Stephen's family at the cheque presentation to Terence on 24 August last.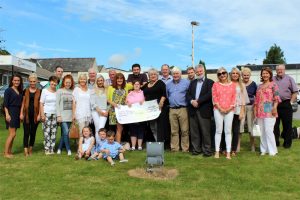 07/09/16: Wednesday night players are back! More players wanted.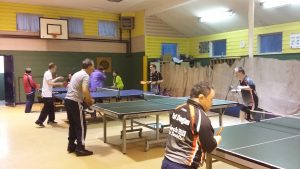 18/9/2016: The Beech Hill team at the Munster rankings 2016. Beech Hill came first and second in the veterans over 40's at the Munster Rankings 2016
🏆
🏆!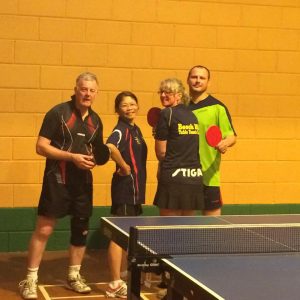 01/10/2016:
Some competition dates to take note of: 19 November – Munster TTI ranking event in Kinsale; 14/15 January – Munster Open Competition in Kinsale, 01 April – Munster SO regional competition in Little Island. Further Munster TTI events to follow.
We are in negotiation with Waterford SO Club to organise a home and away fixture before and after Christmas – we will host the first meeting and we hope to include a light meal in the proceedings in order to have a social aspect to the event.
We are ordering the new Club shirts shortly and half of the cost of these will be added to the annual membership subscription to be taken up from December onwards. More detail of cost to be sent on asap.
We plan to purchase a small number of new tables and ancillary equipment such as score boards, nets, etc in the coming months.
We have commenced discussion with Scoil Bernadette, Cope Foundation, about a recruitment drive in the school this school year in order to bring in new Wednesday night players.
SO Munster have confirmed that a coaching course for the Club has been scheduled for a location in Cork on Sat 22 October.
22/10/2016
Four Club members completed the SO Introduction to Coaching Practices training programme on Saturday 22 October  -Margie Hadden, Eoin Kelly, Bjorn Nielsen and Dan Horgan. Prizes for picking them out from these photos! Hint: try the bottom photo!
2/11/2016
Confirmation of two competitive events in November as follows:
Saturday 12 November, 2-4 pm: our Wednesday night players host Waterford SO in an inaugural inter club friendly competition at the Club premises – singles only with individual medals and team trophy (and bragging rights!) up for grabs. Afterwards we will have some food and chat in the Montenotte Hotel to wrap up the day.
Saturday 19 November, 12 pm: South Coast Table Tennis host the second in the series of ranking events in Cork in St Multose Hall, Kinsale, Co Cork. Our senior, veteran and Wednesday night players will all be taking part. Application form available from any of the Committee. Stay tuned for photos!
12/11/2016
A great day was had by all at our inter club match versus Waterford SO. The results on the day were as follows: Individual Male Winner: Keith Whelan, Waterford SO; Individual Female Winner: Claire Power, Waterford SO; Team Winners: Beech Hill. The photo below shows our team captain for the day, Aoife Kelly, receiving the Team Winner's Cup from Club Committee Member, Eoin Kelly. We all enjoyed ourselves with soup and sandwiches afterwards in the Montenotte Hotel. We look forward to a re-match with Waterford in March 2017. See our photo gallery for more photos from the event.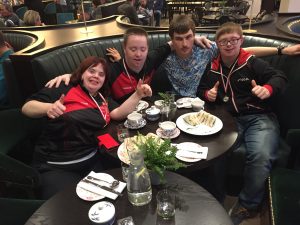 16/11/2016
Welcome to Morhigho Eroutteh to the Club as both player and coach. We will provide more details of Morhigho's involvement in the Club at a later date.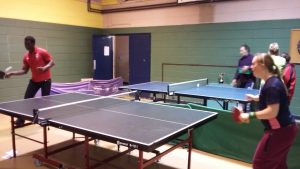 19/11/2016
The Club were well represented at the South Coast Table Tennis Munster Ranking event on the 19th with Seniors, Veterans and Wednesday night players competing. The group of Wednesday night players who competed are shown below and the pick of the bunch is Matthew Collins who won the individual ID event beating Liam Hayes from West Cork  -congrats Matthew!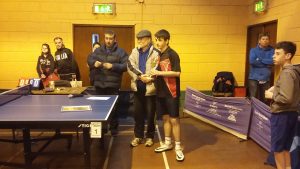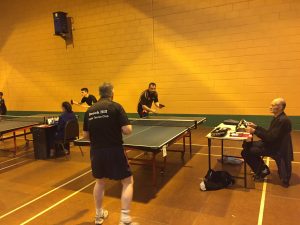 04/12/2016
Check out our veterans !
19/12/2016
Beech Hill on tour! We had a great morning today with Scoil Bernadette, with all of the students, introducing them to the game. Let's hope some join up for more fun in 2017.
21/12/2016
There was a poignant moment at tonight's Club Awards with the presentation by dad, Kevin, of the Steven Kelleher Memorial Perpetual Cup to Club Chairman, Philip Shaw. The Cup will be awarded to the Club Person of the Year on an annual basis. The Kelleher family were also represented by Steven's sisters Grace and Jane. We hope that Steven's memory will live on within the Club when we talk about this cup. Thanks to the Kelleher family for their generosity.
14/01/2017
We had 11 Wednesday night players competing in the Munster Open Championship in the Kinsale Community Centre. Congrats to Liam Hayes, from the West Cork Club, on winning the Individual Male in the ID Category (with Matthew Collins of BHTTC a worthy runner up) and to our own Aoife Kelly for winning the Individual Female competition in the ID Category.
16/02/2017
9 Wednesday night players competed in Clonakilty against members of Cope Foundation SO team as part of their preparation for the Regional Competitions on 01 April. Sad to report Clonakilty came out on top!
04/03/2017
11 Wednesday night players competed in Waterford IT Arena against Waterford SO Table Tennis – the return match. We won and have retained the cup for another year! Thanks to Waterford SO for a very impressive afternoon at WIT.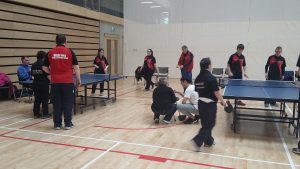 05/03/2017
Congrats to Philip Shaw on his fine third place finish in the Vets category at the National Championships at the weekend in Dublin. Now if we only had a photo to prove it!
11/03/2017
We had five competitors – Philip, Sylvester, Bjorn, Margie and Matthew at the Ballincollig  ranking event this weekend. Sylvester got to the semi-finals in the veterans' section, but was unsuccessful. Philip was more successful and won the veteran's section – congrats Philip!
25 March 2017
Great day was had by all at the SportsAbility Day in the Mardyke Arena  -the robot sure got a good work out!
27 March 2017 – Club Open Night
Our Open Night attracted 10 visitors to the Club.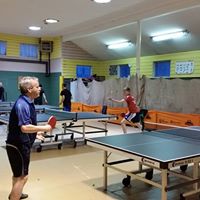 01 April 2017
Wednesday Night players enjoyed lots of success at the Munster SO Regional competition in Little Island –  five gold medals, 10 silver medals, and 10 bronze medals.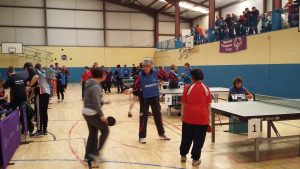 Also on 01 April, Philip Shaw was runner up in the U/60's category of the National Master's Competition – congrats Philip. That placing should be good enough to see him selected for the national team!
02 April 2017
At the UCC ranking event, Philip Shaw won the Veteran's Competition, defeating our own Sylvester Hadyej in the final, while Margie Hadden finished a very creditable fifth place. In the Senior Competition Charlie Billion lost out in his semi-final. Congrats to all!
14 May 2017
We had six Wednesday night competitors at the South Coast Table Tennis Challenger Event in Kinsale. New member Chloe Forde came first in our division – well done Chloe. Picture below are four of our medal winners – Gary Sorenson, Sadhbh O'Callaghan, Chloe Forde and Aoife Kelly.
27/05/2017
Four Club members completed an Introductory Coaching course in the Club hall today – Margie Hadden, Eoin Kelly, Fiona Sorenson and Padraig Hegarty. The course was conducted by Owen Kelly of the Munster branch TTI. A very enjoyable day for all!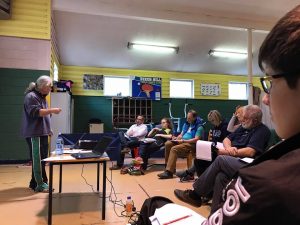 11/06/2017
Eleven Club players competed in the Grand Prix event organised by the South Coast Table Tennis Club today in Kinsale. There were two divisions and the winners were Gary Sorenson and Joe Hegarty with Aoife Kelly and Chloe Forde as runners up –  all pictured below.
28/6/2017
End of Season Club Competition for Wednesday Night Players
Winners: Joe Hegarty amd Aoife Kelly
29/6/2017
Both Craig Cleary and Gary Sorenson have been selected for the National Games in 2018  – congratulations to both!
27/9/2017
Beech Hill has requested to be added to the Register of the Governance Code for Community, Voluntary and Charity Organisations in Ireland. In so going the Club is committing to put in place governance arrangements and practices to meet the standards laid down in the Governance Code. This "journey" towards full compliance with the Code has commenced with the creation of a number of governance related policies for the Club which can be seen on this website in the Governance page.
01/10/2017
Wednesday night players competing at the South Coast Challenger Event in Kinsale. Congrats to Niamh Cafferkey, the overall winner of our division.
7 & 8 /10/2017
Beech Hill hosted a classification event in the Club for Munster TTA and the excellent results for Club members were as follows:
Senior (Band 1): Overall winner – Scott McGowan
Vets Category: Overall winner – Philip Shaw
ID Category: Overall winner – Joseph Hegarty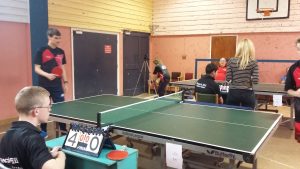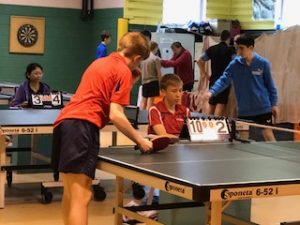 01/11/2017
Our ID players are now ranked on the Munster Table Tennis website!
11/11/2017
We had a very successful SO Inter Club Competition between ourselves, Waterford SO, Cope Clonakility, and Co-Action Skibbereen today and Beech Hill were deserved winners of the trophy. Seamus O'Sullivan is pictured below receiving the trophy from Ben Haughton, Chairman, Munster Table Tennis.
10 December 2017
17 Club players competed in the Leeside TTC Open event in the senior, veterans and ID categories – a great turn out!
20 December 2017
Great night at our Christmas gathering in the Mardyke!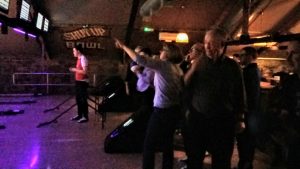 Munster Masters 6/7 January 2018
Philip Shaw finished joint 5th in the O/50s competition
Philip also finished joint 5th in the O/60s competition
Catherine Harnedy finished 6th in the Ladies competition
Munster Open 12-14 January 2018
Some photos of our players at the Munster Open in Waterford. Matthew Collins was pipped for individual winner of the ID category, while Gary Sorenson won the Plate final in the ID category.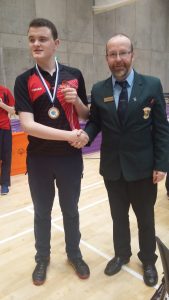 Beech Hill Ranking Event 10/18 February
26 players from the Club competed in our own ranking event over the last two weekends – congrats to Sylvester (Masters Competition winner) and Darragh Ruddy ( ID Competition winner).
27/02/2018
PLEASE NOTE THAT TRAINING SESSIONS FOR BOTH WEDNESDAY 28th AND THURSDAY 1st ARE CANCELLED DUE TO POOR WEATHER FORECAST  – STAY SAFE!
Ballincollig Ranking Event 10/11 March
Congrats to Matthew Collins who won the ID Category and remains at No 1 in the ID ranking. Both Philip Shaw and Scott McGowan qualified for their respective Munster teams for the upcoming Inter Provincial Competitions.
10/4/2018
Click below for a tremendous personal account of one player's love affair with table tennis – thanks Margie!
Table Tennis -The Story So Far by Margie Hadden
19/4/2018
Read all about it!! We're in the Evening Echo
21/23 April
Cork SportsAbilty Week including our Open Night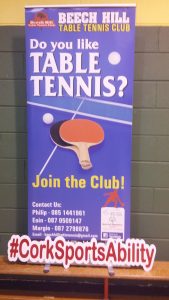 3/6/2018
A magnificent achievement from Club player, Joseph Hegarty, who ran the Cork City Marathon this weekend with a time of 4 hrs.44 minutes, in sweltering conditions, to raise funds for the Club. Joe has raised a total of €575.00!! We would like to thank Joe, dad Padraig, and the very many sponsors who contributed to Joe. With that money raised  the Club will provide Joe  with his own table on Wednesday nights!
10/6/2018
Some photos of our recent Sunday morning session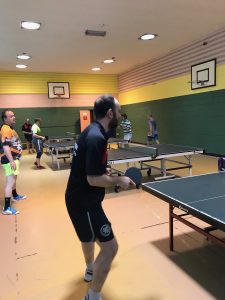 10/6/2018
The dates for the re-arranged National Finals have been released by TTI  – 25/26 August at the Indoor Sports Arena, National Sports Campus, Dublin.
16/6/2018
Great news from the SOI National Games  -Club players Gary and Craig have medalled in table tennis. Gary won gold and Craig won silver in their respective divisions – well done to both.
20/6/2018
All of our successful athletes from the SOI National Games pictured at our Wednesday night session this week. Well done to all!
21/6/2018
Great craic at Beech Hill Friendly tournament. 19 people entered and we ended up having 4 divisions. Philip won the premier division with Sylvain coming second. Jennifer won the second division with Garry coming second and Margie won the third Division ahead of Adam, Vinay, Sebastion and Yens! Dave won the fourth division with Jamie coming second and Darragh third. Thanks to Leeside and Kinneagh clubs for supporting it!
27/6/2018
Our Wednesday night players ended up the 2017/2018 season with the presentation of Club player awards as follows:
Division 5: Runner Up: Norma Cotter, Winner: Pat Dorgan
Division 4: Runner Up: Sadhbh O'Callaghan, Winner: Darren O'Riordan
Division 3: Runner Up: David Horgan, Winner: Craig Cleary
Division 2: Runner Up: Nicholas O'Brien, Winner: Gary Sorenson
Division 1: Runner Up: Ben Og Brady-Bates, Winner: Matthew Collins
Junior Player of the 2017/2018 season is Patricia Groarke – congrats to Patricia, seen below on the left receiving her award from Wednesday Night Club Captain Gregory Cleary.
Wednesday night sessions are now finished until Wednesday night 5 September
27/6/2018
Just an update on Joseph Hegarty's final fundraising achievement for the Club arising from his completion of the 2018 Cork City marathon. With all the money collected the revised total is €1,000!!! What a magnificent achievement and thanks to every one who contributed so generously to Joe's sponsorship cards.
Club Senior Player for the 2017 – 2018 season is Nikolay Genov pictured here on the left with Club Coach, Philip Shaw – congrats Nikolay.
26 August 2018
Some pictures of our Wednesday night players participating in the TTI National Championships in the National Indoor Arena – history made!
Congrats to Philip Shaw on his fine third place finish in the Vets category at the National Championships at the weekend in Dublin. Now if we only had a photo to prove it!
22/23 September
Beech Hill ran a successful Munster TT Classification event in Knocknaheeny Sports Hall over the weekend. Congrats to Sylvester Hadjul for his first place in the Vets Category and to Philip Shaw for his second places respectively in the Men's Senior Band 1 and Vets categories, to Matthew Collins for his first place in the Boys U/18 Plate Competition and to Catherine Harnedy and Margie Hadden for their first and second places, respectively, in the Vets Plate Competition. A shout must go out to Paul Fitzgerald for his first place in the ID Plate Competition. Some photos below: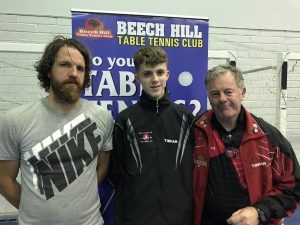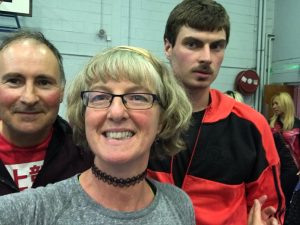 11 October 2018
They are talking about us again!
20 October 2018
Congrats to Head Coach, Philip Shaw, for his victory in the O/60's category in the Leinster Vets Competition.
20 October 2018
Beech Hill hosted the 2018 Special Olympics Inter Club Competition. A total of 34 players took part with 5 clubs/services represented – Beech Hill, Clonakilty,Waterford, Ennis and South Tipperary. Clonakilty won the Inter Club event with 3 divisional winners, Beech Hill had 2 divisional winners and South Tipperary had 1 divisional winner. Beech Hill had the consolation of seeing Joseph Hegarty winning the Division 1 category and so was the best player overall.
Joseph Hegarty & Aoife McMahon (Clonakilty), finalists in the Division 1 Category
28/10/2018
We had 6 players participating in the South Coast Grand Prix today with Gary Sorenson winning the ID division. A novel feature was the first ever mixed ability doubles category in Munster Table Tennis consisting of players from South Coast and Beech Hill playing together  – again, Gary ended up on the winning team! Congrats to South Coast for facilitating this novel category.
10-11/11/2018
We had 15 players participating in the Leeside Ranking Event over the weekend. Congrats to Philip for winning the Vets category and to Joseph for winning the ID category. Special mention to Margie who made it to the Senior Band 2 Plate Final.
01  -02/12/2018
We had 12 players participating in the South Coast Ranking Event over the weekend. Congrats to Gary Sorenson for winning the ID category and to Philip Shaw, winner of the Vets category, where Sylvester Hadjul was second. Philip was fourth in the Senior Band 1 Category.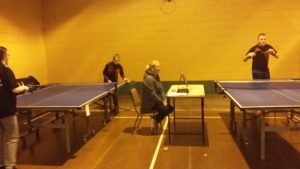 8/12/18
The Club hosted a Women In Sport session at which Jing Yi, Table Tennis Ireland's WIS Lead, conducted a coaching session for all comers.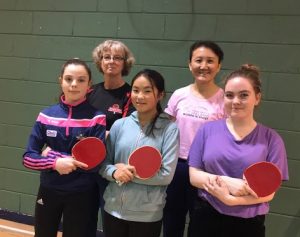 19/12/2018
Congrats to Joseph Hegarty for winning the 2018 Club Person of the Year Award – great jumper by the way  – plus some photos from our Annual Christmas Bowling Night Out!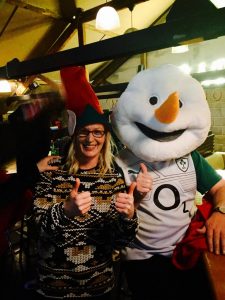 2/3 February 2019
23 Club players competed in the Beech Hill Open ranking event at the weekend. Philip Shaw won the Vets event, Matthew Collins came an excellent second in the Plate section of the Senior Band 2 event, while Joseph Hegarty won the ID event – congrats to all.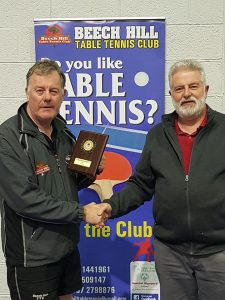 17/2/2019
A great day was had by all at the Munster Special Olympics TT Non Advancement Regional Competition in Kinsale today. Great performances  by everyone. Among the winners were: Joseph Hegarty in the Men's Division 2 Singles , Gary Sorenson in the Men's Division 4 Singles , Craig Cleary in the Men's Division 5 Singles , Joseph and Matthew Collins in the Men's Division 1 Doubles, Patricia and Meghan in the Women's Division 2 Doubles. Also numerous second and third places.
We also had a winner yesterday in the Connacht Veterans Open, where Philip Shaw won the o/60 category.
30/31 March
Beech Hill players dominated the team selection for the Munster Veterans Team in the Inter Provincials with 3 players out of 4 – congrats to Philip, Margie and Sylwester. The team finished a very creditable 3rd place with two of our players winning matches as novices in this event – brilliant or what!
6/7 April
TTI National Veterans Championships
Congrats to Philip Shaw for his second placing in the O/50 category.
19/5/2019
Beech Hill win the Munster SO TT Inter Club Competition 3/2 against Cope Clonakility, Waterford So and Tipperary Tigers! Congrats to Divisional winners, Niamh Cafferkey, Arron Daly and Conor Moynihan for securing the overall victory.
12/6/2019
End of 2018-2019 Season Club Awards tonight.
Senior Player Award: Sylwester Hajdul
Wednesday Night Player Award: Gary Sorenson
Wednesday Night Divisional Winners as follows:
Division 1: Matthew Collins
Division 2: Aaron Daly
Division 3: Craig Cleary
Division 4: Matthew Ryan
Division 5: Veronika Aszyjczyk
16/6/2019
Great day at the National Paralympic Squad training camp in Knocknaheeny. Six Beech Hill players joined four members of the Squad for a very enjoyable training session from coaches Gavin Maguire, Head Paralympic Coach, and Michael Cunningham.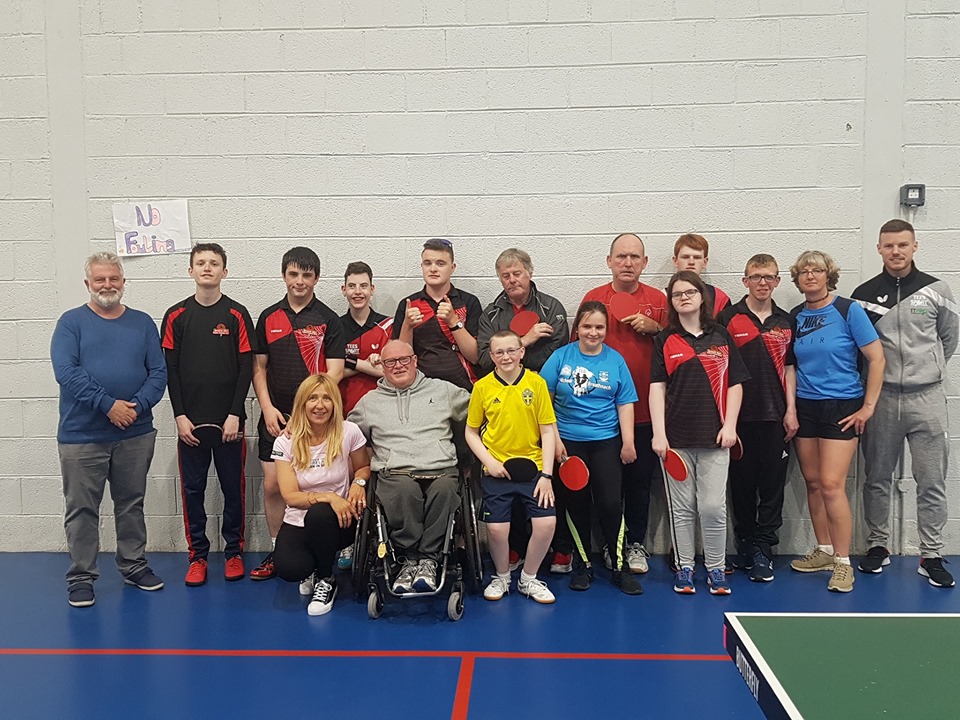 22/8/2019
Beech Hill sponsored a competition among residents in the Kinsale Road Reception Centre following a series of coaching sessions run by Margie Hadden – well done Margie!
15/9/2019
Munster Branch ran a very enjoyable mixed league event in Knocknaheeny
Munster Branch ran a very enjoyable mixed league event in Knocknaheeny. Our own Aoife Kelly featured on the second placed team!
6-8/9/2019
Congratulations to our own Beech Hill Table Tennis star Philip Shaw – who captured International Silver and Bronze for Ireland this past week. Playing for Ireland this past week in the Veterans Home Nations Championship at the Bell's Arena, Perth, Scotland from the 6th to 8th of September, Philip Shaw was Semi Finalist in the Men's 60s Singles, he then partnered Brian Finn in the Doubles – winning a Silver for Ireland. His O60s team also won overall Bronze. A truly Fantastic achievement against the very best in England, Scotland, Wales, Guernsey, Jersey and the Isle of Man.
12/9/2019
Thanks to Bourkes Pharmacy of Iona Park, Mayfield, who have sponsored an Irish Red Cross sports first kit bag for the Club, thanks Thelma, owner of Bourkes Pharmacy.
20/10/2019
Aoife Kelly and Gary Sorenson attended the Para Training Camp in Dublin on the 20th. There's the possibility of trip to the Malmo Open in February as part of a TTI Development Squad for a number of our ID players – fingers crossed!
26-28/10/2019
Fundraising at Harvey Normans over the bank holiday weekend! What wonderful members we have in our Club. Thanks to everyone involved.
10/11/2019
Snaps from the Munster SO Table Tennis League Event at Knocknaheeny Sports Centre.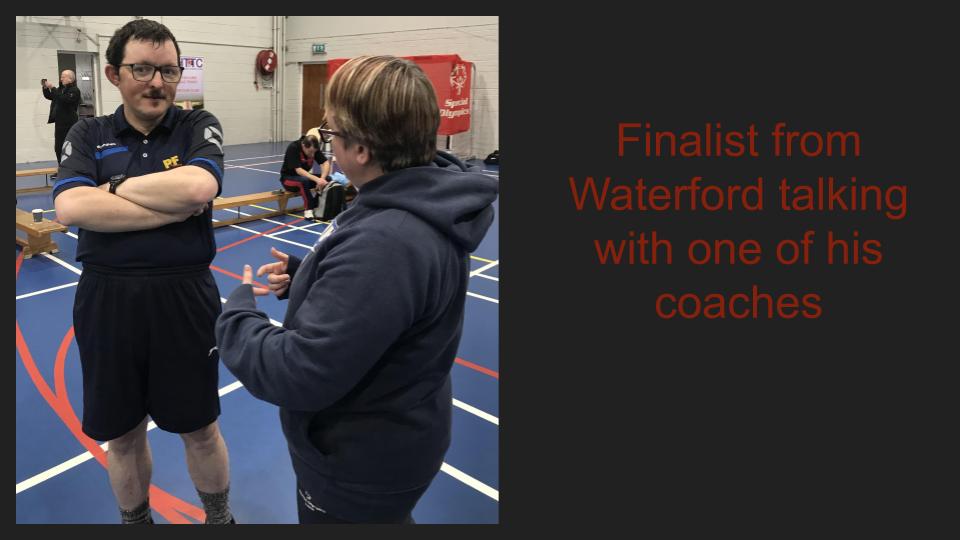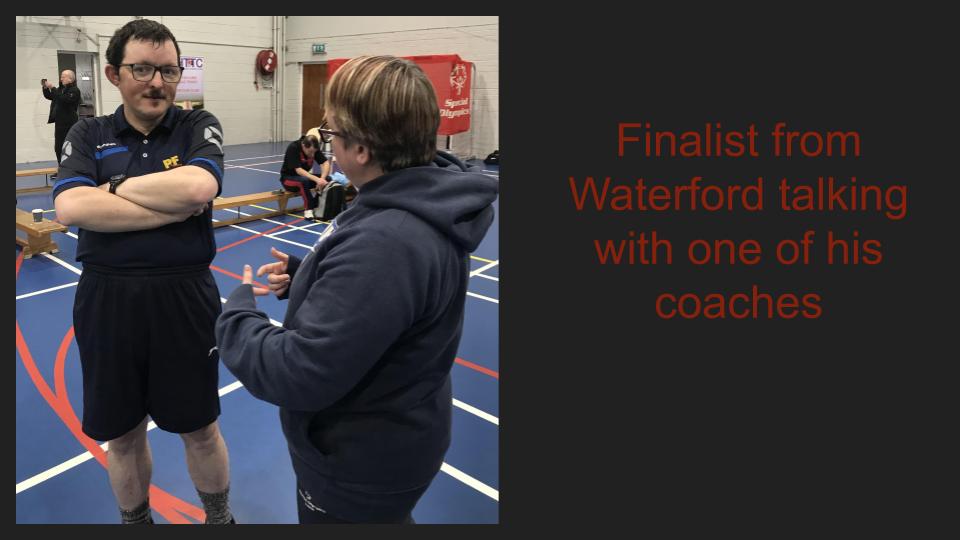 17/11/19
5 club players participated in the National Para training camp in Dublin – Matthew Collins, Aoife Kelly, Gary Sorenson, Aaron Daly and Patrick Sweeney. Selection for the Malmo Open beckons!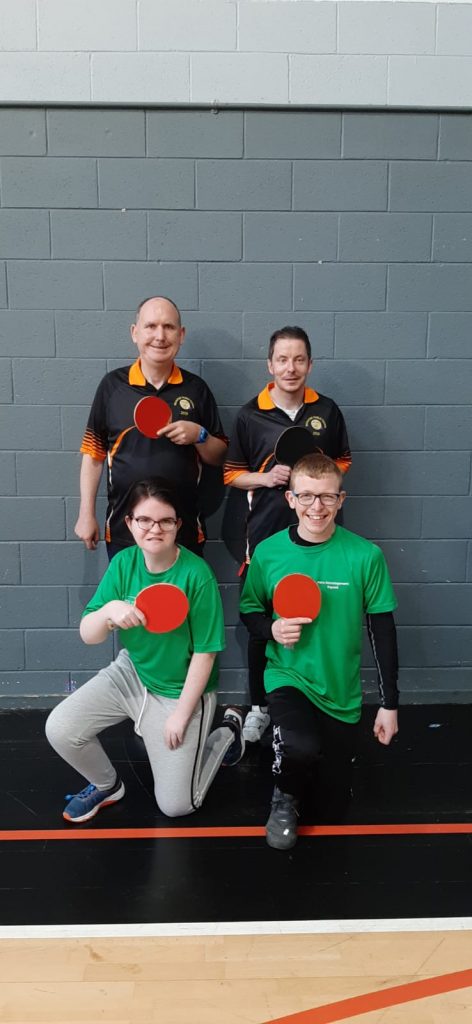 18/12/2019
Congrats to Matthew Collins who received the 2019 Club Person of the Year Award.
18/01/2020
Beech Hill players featured in many of the categories in the Munster Open in Neptune Stadium.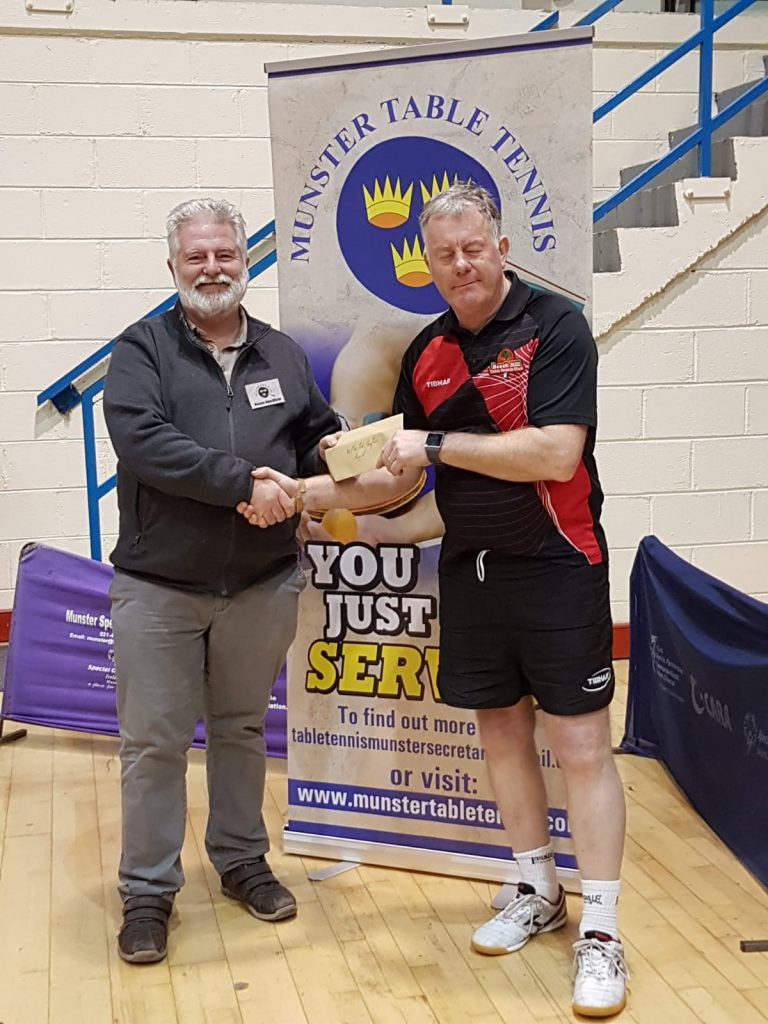 7-9/2/2020
Five Beech Hill players competed in the Malmo Open at the weekend as part of the TTI Paralympic Development Squad – both Patrick Sweeney and Gary Sorenson medalled!
12/2/2020
Birthday party for Matthew for his 18th birthday and to celebrate our Malmo Paralympians. As always Gary has his eyes on the prize! Lovely cake from Karen Daly – thanks Karen.
29/2/2020
The Club was well represented in the Paralympic event at the Connacht Open this weekend – Gary, Aaron, Matthew and Aoife all took part and we are delighted to say that Matthew finished runner up in the Open Para event while Aoife won the Para Plate competition. Congrats to all and we are proud of you!
12/3/2020
Beech Hill Club facilities are closed with immediate effect until further notice on the instruction of Cope Foundation, due to the Government's decision to defer sports activities pending the Covid 19 Virus pandemic.
01/07/2020
Updates concerning Covid 19 and return to play arrangements will be posted on the front page until further notice.
16/1/2022
Congrats to Philip Shaw, prize winner in the Vets category at the Leinster Open this weekend.
Munster Grand Prix 30 January 2022
Back competing again in Cork – congrats to Philip on winning the Senior final, to Margie for her second place in Division 2, and to Nicholas and Aoife for their second and third places in Division 5.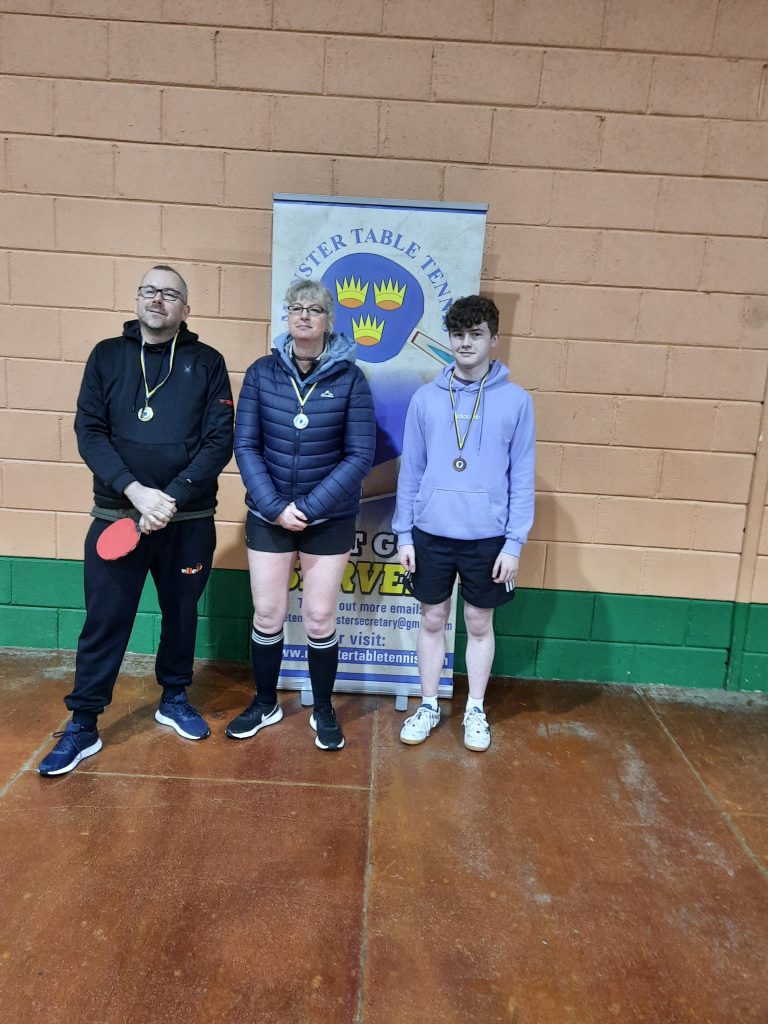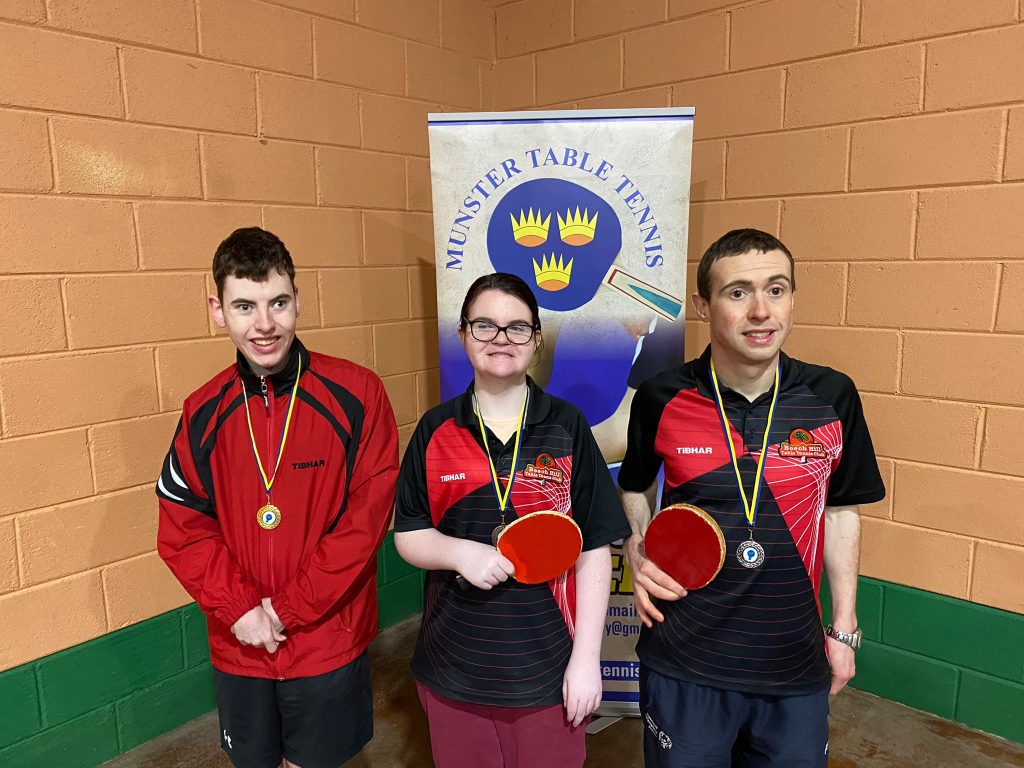 27 February 2022
Congrats to our players at the Munster Grand Prix no 3 today – Aoife, winner of Division 5A, Philip, runner up and Matthew Collins in Division 1A and Margie, 4th in Division 2 B.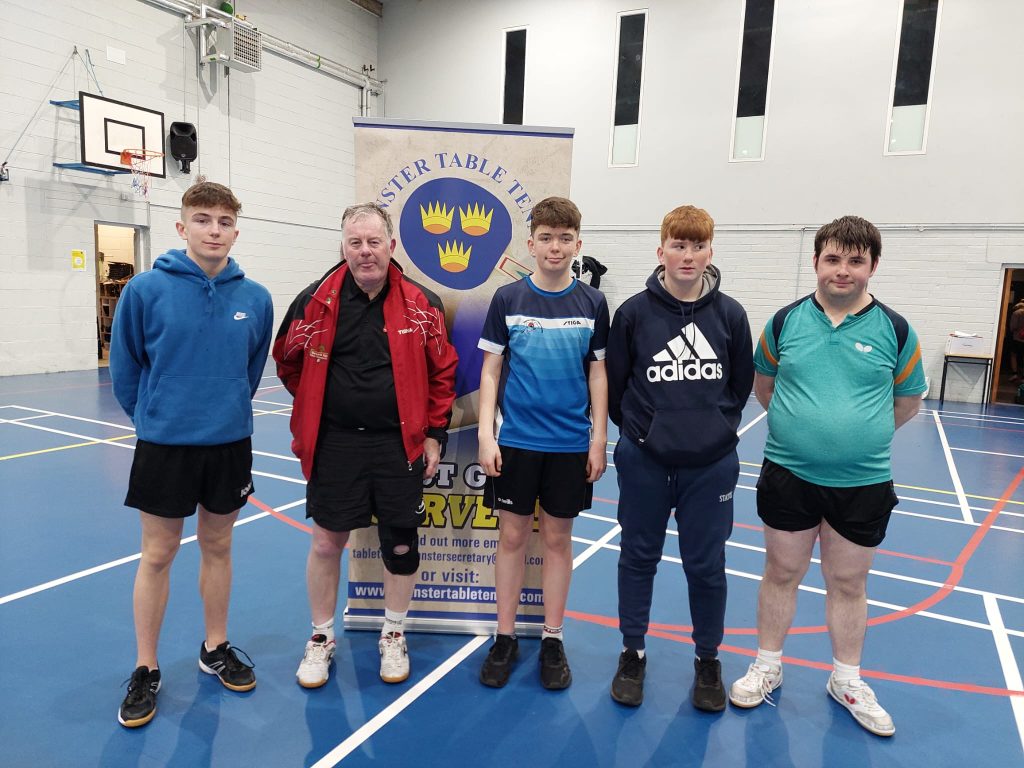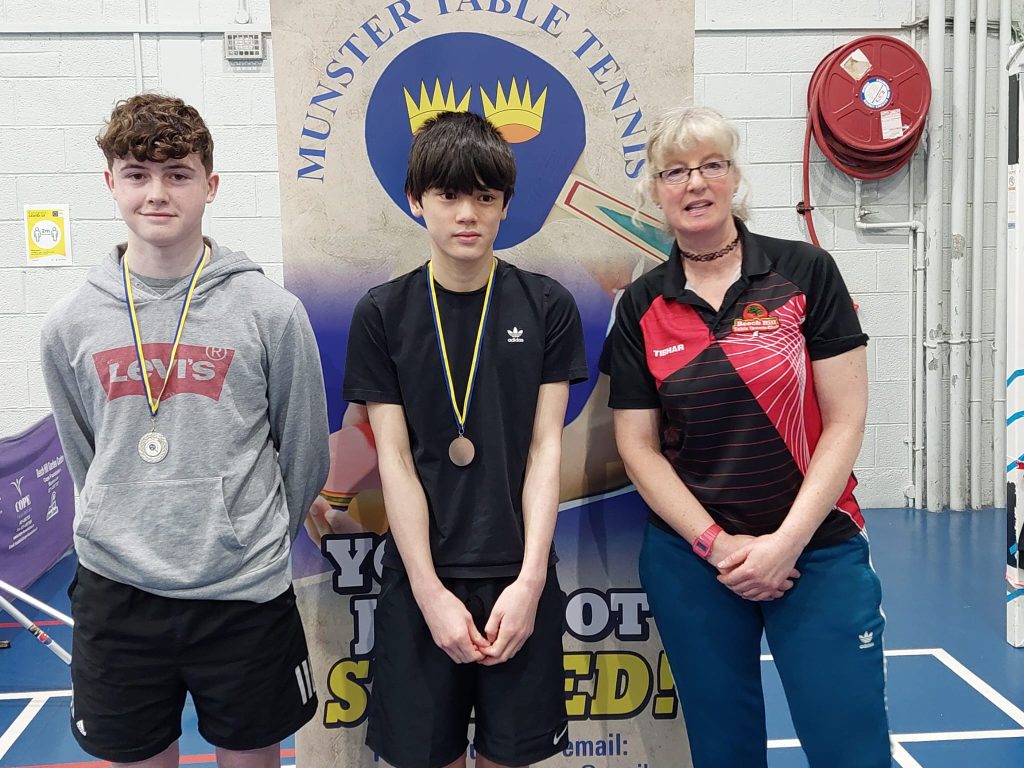 26 March 2022
Beech Hill players had a very successful competition at the Munster Special Olympics Table Tennis Advancement Competition held in Kinsale. Three of our players – gold medal winners – go in to the hat for selection for the World Games in Berlin in 2023!
24 April 2022
23 April 2022
Beech Hill filled three of the four Munster Vets Team places at the 2022 Inter Pros. Well done to Philip, Margie and Nikolay.
22 May 2022
Munster Open 2022 achievements for Club players:
Philip Shaw – second in Vets Category
Matthew Collins – winner Paralympic Open Category
Nicholas O'Brien – winner Paralympic Plate Category
11 June 2022 – TTI AGM
Eoin Kelly, Club Chair, receives the TTI Annual Paralympic Award 
19 June 2022
Beech Hill hosts a national Paralympic training camp in Hollyhill. 
29 June 2022
Integrated sessions at Terence McSwiney Sports Hall are going well on Wednesday nights – yahoo!
21 July 2022
We would like to mark the retirement today of a co-founder of our Club, Terence McSweeney, from his position as manager of the Sports & Physical Actvity Departmentwith Cope Foundation. A lot of us in the Club are grateful for the work put in byTerence in setting up and running the Club in the first ten years and we are seeing the fruits of that work today. All of us in the Club would like to wish Terence a happy and fulfilling retirement.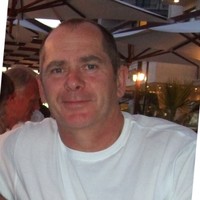 04 December 2022
The Club had 12 players competing at the Munster Knocknaheeny ranking event. Philip Shaw won the Vets event and Finbarr Medina won the Senior Division 3 category – congrats to them both. This event is significant in that our players have embraced the mixed ability model to participation, supported by Munster Table tennis  i.e. playing in both divisions 2 and 3 against mainstream players.